Heider's Berry Farm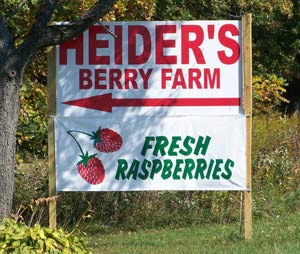 COVID-19 RESTRICTIONS NO PICNICKING! PLEASE KEEP SOCIAL DISTANCING. MASKS ARE NOT REQUIRED.
Heider's Berry Farm provides pick your own and pre-picked strawberries (June and September till frost) and raspberries (July and September till frost). Seasons vary depending on the weather so watch for specifics as the seasons approach. Hours are flexible depending on weather and supply. Check facebook or Connect With Us on the home page before coming.
We expect a plentiful supply of delicious, juicy berries and are looking forward to your visit this season. Picking containers are provided for your use and for taking berries home.
Berry Picking is a fun family outing. Supervised children of all ages are welcome. So come on out and bring the family. Small groups are also welcome.
Drinks may be purchased at our farm stand. We currently accept only cash or checks.